[ad_1]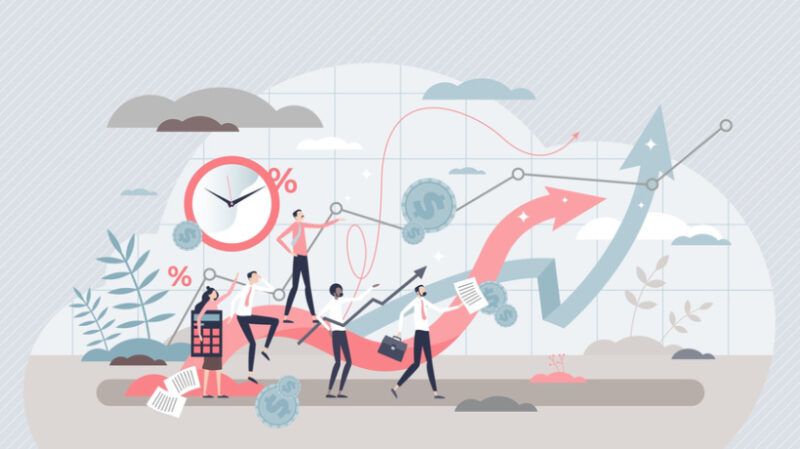 Using Tech To Make The Sales Force More Human
By any measure, retail's present is a mess. With almost as many bankruptcies already as in all of 2022 [1], and the latest consumer data showing retail sales falling by 1.0% in March 2023, many firms are, no doubt, questioning their future and planning cutbacks. There are two roads available for retailers in the future. They are not absolutely separate and they do intertwine, but they present relatively distinct paths. First, large retailers can take the Walmart route and seek to replace human workers, by and large, with robots. (Walmart plans to include automation in 65% of its retail stores by 2026 [2].) Or, retailers can use automation and Artificial Intelligence (AI) to supplement their human, frontline workers, helping them become better at what they do, enabling rather than replacing them. Before we talk about frontline enablement and eLearning, let's think through what consumers in the post-pandemic world want to see before they open their wallets.
Retail Brand Personalities: The Latest Research
According to a 2022 article in Frontiers in Psychology, research suggests that there is great importance in "establishing a retail brand personality that is perceived in consumers' minds as having positive dimensions, such as Genuineness or Sincerity". The researcher, Ya-Hui Kuo, concludes that it "is crucial for retail practitioners to understand how their target customers understand their personalities as being aligned with a retail brand personality that is perceived in consumers' minds as having positive dimensions." Sophisticated was another positive quality associated with retail brand personalities, usually used by research subjects to describe specialty stores.
The inference here is that these "positive dimensions", and especially what Kuo calls genuineness and sincerity, matter so much because in buying from such stores, consumers affirm positive qualities in themselves. This helps them achieve what the researchers describe as "self-congruity", validating their positive ideas of themselves. This is because many consumers look to their shopping decisions as reflections of their own identities and values.
Thus, this up-to-date research suggests, at a time when consumers are faced with a glut of retailers selling overlapping products at similar price points, retailers and brands must reflect positive characteristics: genuineness, sincerity, sophistication (with the first two, according to Kuo, being the most effective). While part of any company's efforts to embody these traits will bear on marketing/branding/advertising, we have to ask: what can frontline sales training do? How might operations and other workforce leaders adapt the frontline without making major extra investments?
After all, now that companies are in cutback mode, it's important to remember that the frontline is already there, and not a new cost to be taken on, as with an ad campaign or rebranding, which requires external consultancy as a rule. And for those companies that prefer a human touch to the full-speed-ahead automation of a Walmart, the need to examine the frontline will be especially potent. But for these companies, there's good news: if you see the human touch as crucial to your business, you're already halfway to being perceived in the customer's mind as genuine and sincere.
Activating "Humanness" For The Sales Force Through Frontline eLearning And Training
Most retailers and consumer-facing companies writ large (e..g., brands/wholesalers) will have already invested in some kind of frontline technology, whether that is basic online training, commissions tracking tools, or point of sale software. The question is whether that technology is doing the bare minimum, "digitalizing" some of the company's previously existing processes, or supplementing, enhancing, and enabling the frontline's humanness. In the past, I've written about performance enablement as a new paradigm for frontline technology [3]. Essentially, rather than providing training and eLearning just for the sake of education and knowledge, Performance Enablement Platforms calibrate such content to reach specific sales performance goals and enable high-performing sales behaviors.
The technology integrates with past performance data to sense exactly what material—for our purposes, eLearning content—will motivate frontline sales performance. Then, the platform uses push notifications to "surface" that content on the individual's mobile app. Such recommended content also gets informed by relevant company KPIs. For example, if for inventory management reasons, a specific type of hockey stick should be sold to consumers, the associate might receive a notification about why this stick in particular is special, with a reminder that they only have $30 left to sell until they reach a commission bonus. Yet instead of turning the frontline into "performance drones", such technology activates their humanness, making them friendlier and driving interpersonal customer connection. This renders frontline members more genuine in consumers' perspectives, and thus, better able to reflect the core positive characteristics that result in a standout retail brand personality.
In one example of a customer story for performance enablement, a data protection SaaS company used this technology to create more engaged sales reps. These reps became more enthused (and informed) about the product than previously, using the learning delivered to them right on time to record raps and video testimonials—innovative sales strategies to sell more. This was in part because the technology wasn't using a one-size-fits-all approach, but molded and changed intelligently based on their goals and progress. The platform didn't intrude into their lives and say, "do this." Instead, the platform connected with their lives, so that they could connect with their customers.
The Performance Enablement Platform's leaderboards and prizes helped as well, with sellers jockeying to win Playstation 5s and other forms of commission. In other words, they softened their human touch to more immediately engage their prospective customers. "We were able to engage [customers] in a different way," one leader at the company said. The point is this: the sales force is more motivated by rewards that are inherent to the sales process.
Artificial Intelligence: Looking Toward The Next Frontier Of Frontline-Customer Connection
Present and future cutting-edge technology will employ Artificial Intelligence and robust automation. That much is clear. Yet, will this "robotization" replace human workers (as in the Walmart example), or make these workers more powerful?
It depends on the technology that retailers, and other companies with large sales forces, decide to use. As we talked about at the top of this article, technology can automate human processes, or it can add value to them. Think about an AI chat agent for frontline eLearning and sales training. This chat agent might live on the worker's mobile device, effectively replacing human trainers, able to answer questions 24/7. That's well enough. Or, it might actively mold and shape itself in concert with the individual worker's interests, goals, and progress. It might change and adapt to suit the individual's character traits and selling styles; it might not only answer questions, but present specific content—sales aids, training videos, brand refreshers—based on the query the individual asked, along with past data. That is, it could be truly intelligent, not just "robotizing", making the human frontline even more human, more genuine and sincere.
This distinction sums up my point as a whole. In the struggle to define brand personalities throughout the 2020s, companies have options. They can automate away their sales force to save costs and be seen as a bland, if affordable, store. Or they can use their sales force to better define their brand personality in the consuming public's eye. I would argue for the latter approach. It's not only more humane and sustainable, but research backs up the idea that it is what customers prefer. Companies just have to ensure their sales force has access to the kind of enablement technology that makes this approach possible.
References:
[1] The running list of major retail bankruptcies
[2] Walmart aims for 65% of stores to be automation serviced by 2026
[3] Frontline Enablement: Retail's New Tech Paradigm For 2023
[ad_2]

Source link