[ad_1]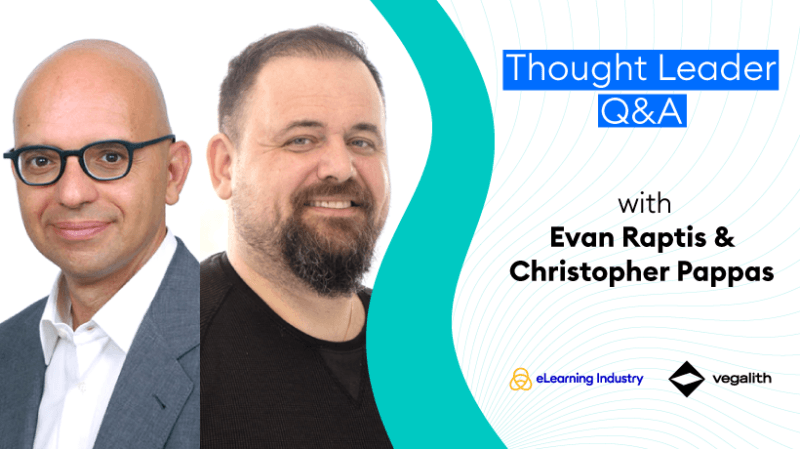 Talking Learning Tech Ventures With Vegalith's Leaders
In 2017, a trio of tech-preneurs came together to work on a number of opportunities for Learning Technology solutions. Six years later, they officially joined forces to launch Vegalith, a business accelerator fund and service provider that offers advisory and transaction support exclusively for high-impact companies in the Learning Tech space. The company's focus is to help founders and teams turbo-charge their offerings to become commercially successful on a global scale. Today, we discuss tech-preneur challenges and carving out a niche in the Learning Tech space with Vegalith's Founder and Managing Partner, Evan Raptis, and Chair of Vegalith's Advisory Board, Christopher Pappas.
Question to Evan: Based on your 30 years of experience as an investment banker, VC fund manager, listed company CFO, and start-upper, what is one of the most significant challenges that entrepreneurs face when trying to get their business off the ground in today's competitive markets?
When I started my business journey in the early 1990s, it was indeed hard to get things "off the ground"—funding was impossible, markets were impenetrable, information was scarce, and bright people would rather work for established corporations. Once you managed to escape that gravitational pull, however, you were probably off to a flying start.
For most of the past decade, the real challenge has been to avoid crashing in flames: competition is fierce and comes from unexpected places, the technology and regulatory landscape is shifting, the market is constantly looking for the "next big thing," and work loyalty feels "out of fashion."
Today, opportunities abound, and you will be given your chance to fly. Once you are up in the air, this is where the real game begins. I look at the new generation of tech-preneurs with a sense of envy: it's not so much about getting off the ground as it is about flying higher and longer, managing a soft landing, and going off on a new adventure. That's why these days I prefer to work and hang around this new breed of tech-preneurs like Chris Pappas—guys who love to fly.
Question to Evan: You're the founder of Vegalith, an investment boutique that focuses exclusively on high-impact companies in the Learning Tech space. Please tell our readers more about Vegalith and the inspiration behind it.
We live in an age where information is available in quantities unimaginable even a few years ago. The challenge is to turn that into knowledge that can be used to advance people and organizations—otherwise, information is just noise or, worse, a distraction. This conversion process involves "learning" at an individual as well as organizational level. Software platforms that smoothen the path to knowledge are some of the most transformational forces in today's world.
Companies that operate in the learning software space often find it themselves confusing to navigate today's ever-changing and crowded skies. Part of the confusion comes from the fact that there are very few places out there where they can look for dedicated support. We created Vegalith to address that need.
Vegalith is scanning the globe for teams with an ambition to "make a difference" in the Learning Tech space. We then use our unique operating expertise and market access to help them grow and take their offering to the next level.
Question to Chris: Can you offer Learning Tech startups a few words of advice on how to begin building a successful marketing strategy to carve out their niche and establish a proven commercial track record?
The first and most crucial step is to actually identify your niche and USP. To stand out, you need to be able to differentiate yourself from the competition and bring something new to the tech table. Once you have that figured out, you can start really diving into target audience research to create buyer personas and develop short-term aims.
A common mistake that I've seen startups make is not having a clear focus. They might have a five-year plan in place, but long-term objectives require short-term goals. How are you going to break into the industry and make your mark? What can you do to establish social proof ASAP? Which content marketing strategies will help you build an online presence and improve conversion rates?
A successful marketing plan often hinges on strategic efforts that bring leads down the funnel. Every eBook, article, webinar, and PPC ad brings you one step closer to turning those leads into loyal customers. Breaking your promotional efforts into these more manageable components allows you to track performance and measure ROI more effectively so that you can custom-tailor everything moving forward.
Question to Vegalith: Is there a recent development project, product launch, or another initiative our community should know about?
As part of our offering, we have recently launched an accelerator fund, Vegalith Ventures. This is a unique initiative in the technology investment space: it invests exclusively in Learning Tech companies—focusing on SaaS models that are proprietary, technologically mature, and have a commercial proof of concept. At Vegalith, we will work with a handful of such initiatives as we craft a customized go-to-market strategy, fund it, and then work with management to execute it successfully. We are looking for the next generation of "star performers" and will work together to make their business a commercial success.
Question to Chris: In your opinion, why is it so crucial for Learning Tech companies to partner with an investment company that specializes in their niche and works with them to develop a growth strategy?
Going back to Evan's initial comment, taking off is easier these days: there are fantastic Learning Tech teams with solid IP, access to funding, and solid business models. What is missing is a go-to-market strategy that will ensure that they fly to their next destination: a new geography, an adjacent vertical, or a partnership with a much larger peer or aspiring entrant to their market. For this, they need a go-to-market strategy that uniquely fits their business model, their team's DNA, and their audience.
In my experience, this is what makes or breaks a Learning Tech venture. Choosing an investment partner that understands our world and is prepared to roll up its sleeves and work alongside them to grow is crucial. That's why I believe accelerator funds like Vegalith can make a big difference in the global Learning Tech space. That's another reason why I am keen to support such bright initiatives and see our ecosystem democratize learning.
Wrapping Up
We truly appreciate Evan and Chris for taking the time to participate in our Q&A and offering their valuable insights. You can learn more about Vegalith's origins, who they are, and who they work with by visiting the website.
[ad_2]

Source link